Texas 2021 Deep Freeze: War Stories from the Water Utility Frontline
February 24, 2021
Author: Elizabeth Hayes in collaboration with SWAN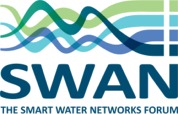 What happened in Texas last week?
Texas is no stranger to natural disasters. However, this recent winter storm was a perfect confluence of events which brought Texas' critical infrastructure to its knees. Peak energy demand outstripped supply as power generation was crippled by record low temperatures, resulting in state-wide rolling blackouts for days. Water utilities went to war with mother nature to keep pumps running through blackouts to maintain water to customers. Water lines froze and burst. Equipment failed due to prolonged low temperatures. Millions across the state were left shivering in the dark with little to no water. This was a humanitarian crisis.

As an Austin-native working for a technology company which serves water utilities across Texas, I want to share stories from the frontline. Utility operators are behind-the-scenes heroes whose stories are rarely told and seldom appreciated. These men and women worked around the clock in the harshest conditions while their own families and homes were cold and dark. We witnessed first-hand the power of digital twin technology tested in a crisis scenario -allowing utilities to maintain visibility of their assets despite power loss. Smart, quick decisions and creative solutions may have made the difference between life and death for some customers.
Mustang Special Utility District (SUD)- A Lesson in Flexibility and Resourcefulness
Mustang SUD, located north of Dallas, serves one of the fastest-growing communities in Texas. Last Tuesday evening, Chris Boyd the General Manager, received word from an electric provider that power would likely not be restored for more than twenty-four hours to a critical well site. This well was temporarily delivering water through two miles of above-ground pipe to 3,000 people in a new subdivision. Without flowing water, the above-ground pipeline would freeze solid in sub-10-degree weather, leaving people without water for days.

Chris asked Dustin Blank, his chief of water operations, if an available 240kW generator on a trailer could somehow be made to work with the 400kW well facility. They phoned the technical support team at Specific Energy and consulted their DPO dashboard. In a matter of minutes, it was determined that they could operate the well at up to 78% of full speed and produce sufficient flow to keep the pipe from freezing. The undersized generator idea would work.

Dustin and Chris met their electrical crew on the cold, windy hilltop well site, and they cut in the generator, reduced the well speed and began delivering water into the system just as the elevated storage tank was giving up its last water. Cold and miserable, Chris, Dustin and crew saved the day.
Kempner Water Supply Corporation– The Little Pump Station that Could
Kempner WSC serves a largely rural population of 24,000 in central Texas. Rodney Seaver, utility operations manager and his crew were losing the battle last Monday morning to keep the Stone Oak Pump station exterior piping from freezing solid. Record cold temperatures and rolling blackouts were wreaking havoc on their facilities. Desperate for electricity, Kempner staff made a phone call to the general manager of the local electrical cooperative. The GM agreed to halt rolling blackouts to the critical water facilities, and they began refilling tanks Monday night.

With Stone Oak Pump Station frozen and out of service, they relied on a smaller two-pump Northeast Pump Station supplying water to about 3,000 people. The station was designed to operate one pump a time, adapting speed throughout the day to deliver constant discharge pressure. Rodney was surprised when he pulled up the Northeast Pump Station on his mobile to see both pumps running – this had never happened before. The station was experiencing unprecedented demand and even though it wasn't designed to run with 2 pumps, the DPO was automatically using both pumps to meet the demand and maintain constant discharge pressure. Rodney later shared that he probably would not have been comfortable running in this mode without the DPO, but the 2 pump operation was necessary to keep customers in water.

Over a week after the storm, Rodney is witnessing unprecedented demands throughout his system as customer grapple with thawing broken water lines. This past Saturday, as temperatures rose in Central Texas, Kempner delivered over seven million gallons to customers, more than his greatest peak summer day in 2020.
In Conclusion
There were untold heroic acts and consecutive twenty-four-hour workdays by water and electrical utility employees fighting to keep facilities up and running. Operators need technology that allows them to make smart decisions and operate with flexibility in times of crisis. Specific Energy personnel were honored to do our part by ensuring that our cloud infrastructure was operational and delivering insights and operational flexibility during the 2021 Texas Deep Freeze.